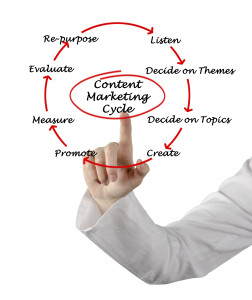 One of the most important aspects of a website is its content. With SEO Content Creation, your website can attract viewers and search engine rankings with the right content. Quality content will do wonders for your website. Your website needs to give people a reason to stay on your page for more than just a few seconds. Your website can reach its full potential with specialized content. A good question to ask is: what is my website providing to my audience? At the Social Media Factor, we will help you find the answer.
SEO Content Creation is comprised of a step by step process. This process builds on necessary information for creating good website content. After an analysis, we can determine where to get started for you. Effective website content is dependent on the following factors and processes:
Keyword Research: The first step in SEO content creation is finding out which keywords work best for your website. If you are a massage therapist in Los Angeles, we will build your keywords around that premise. Each page of your website will be carefully analyzed to see which words will boost your website's performance. Keywords are the beacons on any web page. An analysis of your keywords will prevent low search engine rankings and the stuffing of unnecessary keywords in your web page. The right keywords can make the difference in the amount of traffic that visits your website.
Combining Keywords with Content: The right keywords are only just half the equation. The keywords need to be combined with the right type of content. Your website copy should be relevant. Even blog posts need to be curated to match your website's theme and purpose. Don't waste precious website with fluff. The keywords need to be integrated naturally into your content without repeating the keyword too much. We will make sure the keywords appear organically in your content. Connect ME Digital Marketing team will help combine essential keywords with engaging, interesting content. Your content is safe in our hands.
Creating Audience Engagement: Content is not just meant to be read–it's meant to engage your audience. The best web content will encourage your readers to stay on your website and interact with more of your pages. In SEO Content Creation, the aim is to get people talking about your website. Using like and share buttons on your web page can promote your website all across the internet. The time a person spends on your website is proportional to its success. Great content and user interaction will guarantee the success of your website. It's not just about drawing users in, it's about keeping them on your website.
Keeping your website up to date: Even with the right SEO content, don't let your website go stale. Connect ME Digital Marketing can advise you on keeping your content new and exciting. We will make sure it stays relevant with your website's goals. Always having new content will draw traffic to your website. Fresh content will invite users back to see what is new with your website. We will make sure your website is always remains active and attracting users. We can help assure you that our experts will guide you through making great content. Connect ME Digital Marketing will be with you every step of the way.
Don't be overwhelmed by all this information. Depending on what type of website you want, we can help you find the pages that your website specifically needs. We will make sure you only have what you need and not a website that is overcrowded. There are different types of SEO Content Creation web pages. Here is a list of what they are and what they can do for your website.
Landing Pages: This is the first thing people see when they visit your website. It's important to have SEO friendly and engaging content on this page. You want to encourage your audience to click other pages on your website.
Product Pages: If you are running an e-commerce site, this page is important to attracting customers. Having the right SEO keywords to discover your product will gain you more traffic.
Blogs: Not every website has one, but they are a great way to engage with your audience. An SEO friendly blog with great content will keep you customers interested in what is happening with your company.
Articles: Posting articles about your field, such as medicine, can keep people updated. Articles are a great way to get noticed online by connected to a well-know website. Sharing articles, and even writing them, is a great way to gain an audience.
Videos: Posting a video on your website is part of SEO Content Creation. A video adds user engagement and can be used to tell people about your company.
Lists and Guides: A listicle is a fun way to add SEO content to your website. Top ten lists are very popular for any website. They gain quick attention from search engines. A guide is a page to tell people how to use your product. Posting a quick guide will help users understand your content.
Why choose Connect ME Digital Marketing for your SEO Content Creation?
Our team at Connect ME Digital Marketing is comprised of SEO experts and people with years of content creation experience. They will work with you to create the best content possible for your website. Connect ME Digital Marketing offers real, measurable results with solutions that actually work. We don't promise gimmicks we can't deliver on. Connect ME Digital Marketing sets goals and helps your company reach its potential.
Connect ME Digital Marketing promises that it will help get you on your way to internet domination. We do that by working within your budget and working to make you better than the competition. At Connect ME Digital Marketing, we don't just build websites, we build reputations. Just a fifteen minute phone call with us will start you on your journey to SEO Content Creation.
Contact us today for a free consultation. Let us handle your SEO Content Creation.